José Manuel
The watch lover who is guilty for this business venture. He can finally let loose his ideas and wishes and let emerge his designer capacity which has remained hidden for so many years, extending and perfecting it with so many enthusiasm.
Linda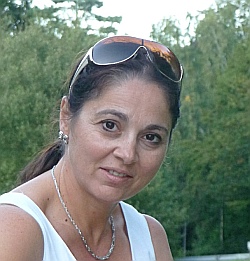 Of Italian nationality and an extensive experience in the Italian men's high fashion branch, she is the ideal partner. Her attention to detail and perfectionism is essential, providing continuously that distinctive details which are absolutely necessary in a business venture like MANSAREA.
& The Craftsmen Team
The real responsible of the final works. Because of their wide experience, their talent and their professional involvement right from the beginning, MANSAREA has been able to send worldwide top quality craft products.
This team of trusted professionals working together now for many years, are the essential and necessary basis for handmade leather works made in Ubrique / Spain who continue to demonstrate its quality as required by many loyal, regulars and well accustomed customers worldwide.